Pandora's Mine
Related links
:
Weapons Merchant Bolo
---
Jump to
:
Game-play
-
Rewards
---
Pandora's Pick is a special pickax that can extract Jewel of Bless from ore pockets found around the Continent of MU!
How To Participate
Item: Pandora's Pick
The pickaxe's durability must be repaired via Jewel of Bless
To repair Pandora's Pick, use Jewel of Bless on it to recover durability:
1 Bless: 4 durability
10 Bless: 40 durability
20 Bless: 80 durability
30 Bless: 120 durability
Pandora's Mine Locations
Lost Tower safe zone
Tarkan safe zone
Aida safe zone
Swamp of Peace safe zone
Raklion safe zone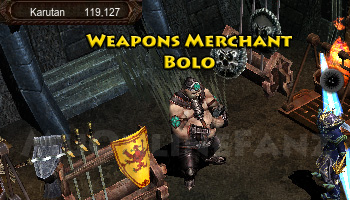 Game-play
There are three types of ore pockets that can be mined: blue, purple and gold.
Mining ore pockets will decrease the pickax's durability, depending on the pocket mined:

Blue: 2 durability each mining attempt
Purple: 4 durability each mining attempt
Gold: 8 durability each mining attempt

Each type of pocket offers a different amount of jewels which can be extracted.
Equip the pickax, and click an ore pocket to start mining.
Jewels can be claimed after each successful mine.
A player can attempt to continue mining an ore pocket, at the risk of the already earned jewels.
If an attempt to continue mining an ore pocket fails, all obtained jewels from that mining pocket will be destroyed!
If an ore pocket is destroyed, it will disappear, and reappear after 60 seconds.
On rare occasion, Pandora will gift a player with a special reward, if the player successfully mines the entire ore pocket.
If Pandora's Gift is obtained, a system announcement is made displaying the winning the character's name.
Rules
General:

Pandora's Pick required
Pandora's Pick must have at least 2 durability to mine the smallest ore pocket.
Rewards
Ore Pocket Reward
Blue Jewel Pocket
Tier one: Jewel of Bless (x1)
Tier two: Jewel of Bless (x3)
Tier three: Jewel of Bless (x7)
Tier four: Jewel of Bless (x16)
Full pocket: Jewel of Bless (x33)
Purple Jewel Pocket
Tier one: Jewel of Bless (x2)
Tier two: Jewel of Bless (x6)
Tier three: Jewel of Bless (x15)
Tier four: Jewel of Bless (x34)
Full pocket: Jewel of Bless (x67)
Gold Jewel Pocket
Tier one: Jewel of Bless (x4)
Tier two: Jewel of Bless (x12)
Tier three: Jewel of Bless (x29)
Tier four: Jewel of Bless (x65)
Full pocket: Jewel of Bless (x125)
Pandora's Gift Reward
---
[Advertisement]:

---