Lahap - Season 14
Advertisement:

This is archived information from Season 14! After Season 14, all information on the page has changed.
You can find current season information here.
Season 14 Changelog
Prior to Season 14, Lahap was able to bind large amounts of Jewels into Jewel Bundles, or unbind them, for a Zen fee. Jewel Bundles are now a discontinued item since the Divide feature was added, which allows free stacking and dismatling of multiple Jewel items.
All Jewels were able to be binded into Jewel Bundles, including Gemstone and Refining Stones.
Binding (x10) Jewels into Jewel Bundle cost (x500,000) Zen.
Binding (x20) Jewels into Jewel Bundle +1 cost (x1,000,000) Zen.
Binding (x30) Jewels into Jewel Bundle +2 cost (x1,500,000) Zen.
Unbinding any Jewel Bundle into individual Jewels cost (x1,000,000) Zen.
There needed to be enough space in your Inventory when unbinding Jewel Bundles.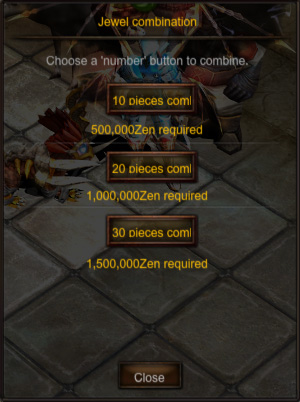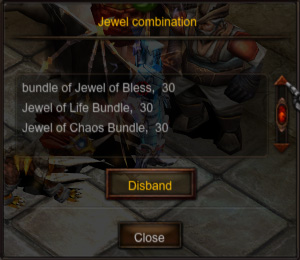 Page updated June 28, 2022 || b2022.12.18.002

---
Owned by Izak Thompson
All Rights Reserved || Copyright © 2012 ~ 2023
*WEBZEN IP, game content, and materials are trademarks and copyrights of Webzen Inc., and its Licensors, and is used with permission. © Webzen Inc. All rights reserved. The MU logo and the Webzen logo are trademarks of Webzen Inc.