---
Blessed Decoration Ring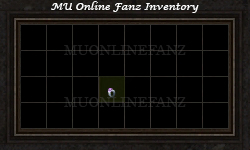 ---
Requirements:
[Character Level]: [Level 1]
---
Search for this item in Monster Drop Tables > >
Possible [+Additional Option]
[ATK\WIZ DMG] [+15%]
[ATK Speed] [+10]
[New Year] [Character Skin] is applied to the character.
Related Items

Notes & Links
Cannot be [Repaired].
The [Durability] decreases every 60 seconds, when the item is equipped.
The [Durability] lasts a total of 30 minutes, while equipped.
Can be obtained from [Event] [New Year Monsters]!
---
---
*WEBZEN
IP, game content, and materials are trademarks and copyrights of Webzen Inc., and its Licensors, and is used with permission. © Webzen Inc. All rights reserved. The MU logo and the Webzen logo are trademarks of Webzen Inc.
Build 0.0.0.001