Monster Soul Converters
Advertisement:

Priest James sells special items called Monster Soul Converters. You can use them to collect monster souls while fighting monsters. If you collect enough monster souls, the item can be converted into a reward! When you purchase the item, you will get a quest that shows you information about collecting monster souls.
Quick Facts
You can start a quest from level 400.
To start a quest, purchase a Monster Soul Converter from Priest James.
There are 5 types of Monster Soul Converter that can be purchased.
Monster Soul Converter items cost Ruud x400 ~ x800.
After purchasing the Monster Soul Converter, you will get a random quest with information about the souls you need to collect.
All Monster Soul Converter items, and their quest, expire every Monday @23:30 (UTC).
Monster Soul Converter items that become expired cannot be used.
You can only have one Monster Soul Converter at a time.
You can only purchase up to three Monster Soul Converters per week.
The quests that are given change each week.
When the Monster Soul Converter is filled and the quest is completed, right-click the item to claim a reward!
Each reward includes one fixed reward and one random reward.
During promotional events, Monster Soul Converters may give additional rewards!
Priest James owns an item shop with various Mastery items for sale like equipment, Skill Items, Boss Room items, and high level crafting ingredients. Everything in his sh...

*Data generated 09/28/2023 © muonlinefanz.com
---
Collecting Monster Souls...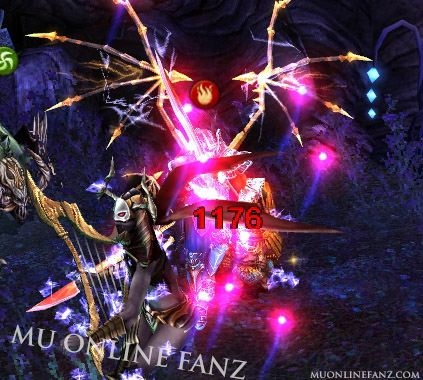 When you kill a monster with the Monster Soul Converter item in your inventory, there is a chance you will automatically absorb the monster's soul. Just keep killing monsters until you've collected enough souls to complete the quest!
Monster souls have a 45% chance to be absorbed.
Monster souls can be acquired while in a party.
Monster soul acquisition can be shared between party members, but only if the party members are using the same Monster Soul Converter item and sharing the same quest task.
---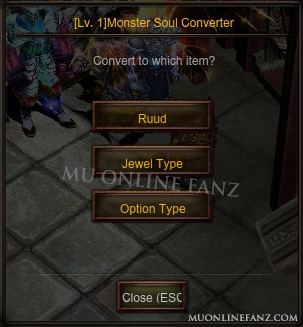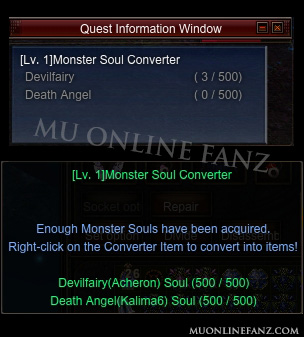 Rewards:
After filling the converter item with monster souls, you can choose a type of reward to claim. Each converter offers Ruud, Jewel, or Elemental type rewards. The Lv. 5 converter offers an exclusive Accessory type reward.
---
Ruud reward:
Fixed reward:
Random reward:

Ruud x200 ~ x4,000
[Bound] Bless of Light (50%) x?
---
Jewel reward:
Fixed reward:
Random reward:

Jewel of Chaos x?
Jewel of Soul x?
Jewel of Bless x?
Jewel of Life x?
Jewel of Creation x?
Jewel of Harmony x?
[Bound] Bless of Light (50%) x?
---
Option reward:
Fixed reward:
Random reward:

Pentagram (any)
Errtel [Rank 1] [+7]
Elemental Rune x?
[Bound] Bless of Light (50%) x?
---
Accessory reward:
*Only available from Lv.5 converter.
Fixed reward:
Random reward:

Cherry Blossom buff items x?
Excellent Ring (any)
Excellent Necklace (any)
Earring of Wrath (L)
Earring of Wrath (R)
Lapidary Stone x?
[Bound] Bless of Light (?) x?
---
Game lore...
"-"
Quest List
These quests are only available after purchasing a Monster Soul Converter, which requires character level 400.

Page updated February 21, 2023 || b2023.09.11.001

---
Owned by Izak Thompson
All Rights Reserved || Copyright © 2012 ~ 2023
*WEBZEN IP, game content, and materials are trademarks and copyrights of Webzen Inc., and its Licensors, and is used with permission. © Webzen Inc. All rights reserved. The MU logo and the Webzen logo are trademarks of Webzen Inc. Voluntary legal agreement established in 2021.