Shadow Phantom Soldier Quests
Advertisement:

Shadow Phantom Soldiers are seeking strong warriors that are looking for work. They have been endlessly trying to hold off the evil monsters that are appearing all over the continent. For the last 2 years, they have successfully managed to save several cities from utter destruction. However, they are ultimately losing the battle and need help. They are seeking the help of adventurers of any experience level and will train anyone willing to take on some tasks. By completing some of their requests, the Shadow Phantom Soldiers will help guide you to becoming a powerful warrior!
Quick Facts
You can start a quest from level 1.
Speak to the Shadow Phantom Soldier to start a quest, located in Lorencia, Noria, Elveland, and Devias.
Each quest has a character level restriction.
Your character level must fall within the level restriction to be able to accept a quest.
If your character level becomes greater than the level restriction, you will not be able to get the quest.
Some quests can only be completed once, while others are repeatable.
Some quest tasks differ depending on your character class.
*you can check the quest log via hot-key [T].
Shadow Phantom Soldiers are located throughout the continent. These soldiers have been trying to hold off the evil monsters being summoned by Kundun. Shadow Phantom Soldi...

*Data generated 06/05/2023 © muonlinefanz.com
---
Notable Quests
It is recommended to complete the following quests, especially if you are new to the game. These quests reward you with equipment items that have a high item level. The rewarded items are better than any items that can be purchased from a NPC shop.
Conquer the Dungeon Quests
Level 91 ~ 100:
Level 101 ~ 110:
Level 111 ~ 120:
Level 121 ~ 130:
Level 131 ~ 140:
Level 141 ~ 150:
Reconnaissance Party's Mission Quests
Level 161 ~ 165:
Level 166 ~ 170:
Level 171 ~ 179:
Level 180 ~ 185:
Put the Lost Tower to Sleep Quests
Level 186 ~ 189:
Level 190 ~ 193:
Level 194 ~ 197:
Level 198 ~ 201:
Level 202 ~ 205:
Level 206 ~ 209:
---
Mini-game Related Quests
Olga will offer a handful of quests related to mini-games, such as asking you to participate in Chaos Castle. For the sake of organization, information about those quests can be found at the link below:
---
Character Buff
Shadow Phantom Soldier also offers a free character buff which increases ATK DMG and DEF! Just talk to the NPC!
ATK DMG +45

ATK DMG buff increases by +1 every 3 character levels.

DEF +50

DEF buff increases by +1 every 5 character levels.

Buff duration: 60 minutes.
*Note: the NPC will stop giving the buff after character level 220. However, on Gold Channel Servers, the NPC will give the buff to characters up to level 400.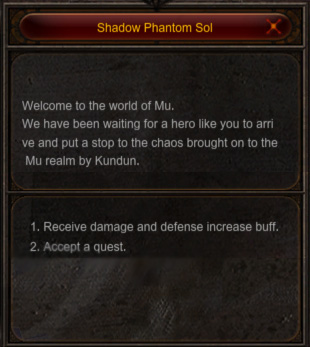 ---
Game lore...
"Oh, I haven't introduced myself yet. My name is Olga. My fellow comrades from the Shadow Phantom Guardians and I serve Erin Gust IV, the Queen of Noria. We have been waiting for a hero like you to arrive and put a stop to the chaos brought on to the MU realm by Kundun. If you wish, we can provide you with a simple tutorial. It won't take up too much of your time. I'll simply explain basic controls and hunting techniques. We aren't difficult to find. Simply look for and talk to the Shadow Phantom Soldier in any of the towns."
Quest List
These quests are only available to characters between level 1 ~ 350.
Filter by character level:
Show All
Lv. 1 ~ 79
Lv. 80 ~ 160
Lv. 161 ~ 219
Lv. 220 ~ 259
Lv. 260 ~ 349
Looking for Scroll of Oblivion quest information?
Check the archive here.
Page updated March 06, 2023 || b2022.12.18.002

---
Owned by Izak Thompson
All Rights Reserved || Copyright © 2012 ~ 2023
*WEBZEN IP, game content, and materials are trademarks and copyrights of Webzen Inc., and its Licensors, and is used with permission. © Webzen Inc. All rights reserved. The MU logo and the Webzen logo are trademarks of Webzen Inc.