Ancient Items
Ancient Items are powerful sets of equipment items which, when worn together, unlock +Set Options! Ancient items are a stronger item grade than normal or excellent grade items, with increased DMG or DEF! Ancient Mastery Items are some of the most powerful items in MU; however it will require a character over level 400 to start using them!
---
Related Pages:
Ancient Item Types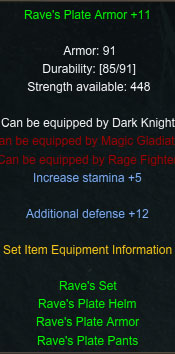 This is a list of different excellent items that can be used for combat.
Armor items: defensive
Shield items: defensive
Weapon items: offenvise
Pendant Items: offenvise
Ring Items: defensive
Ancient Item Grades
Item Grades make items more powerful by increasing item stats and adding +Additional Options to the item. Here are some possible excellent item grades:
Mastery items: requires character level 400.
Enhanced items: requires character level 800.
Lucky Ticket items: purchased from the Cash Item Shop.
How do I obtain Ancient Items? #
+Ancient Option #
One +Ancient Option is bound to an item and it cannot be upgraded or changed.
STR +5 or +10
AGI +5 or +10
STA +5 or +10
ENE +5 or +10
+Set Option #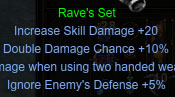 All Ancient Items fall under a specific ancient set name with unique +Set Options.
Most Ancient Sets have multiple tiers of +Set Option.
In order to unlock the first tier of +Set Option, you must equip two items from the same set name.
In order to unlock additional tiers of +Set Option, you simply equip more items from the same set name.
By equiping all items of the same set name, you'll unlock all of the +Set Options.
Armor Set List #
Equip all items in the set and you will unlock all of the +Set Options! Some tier 2 classes may not be able to equip all items of a tier 1 class set. Check the details of each character's ancient sets below.
Click a class below to check the details of their sets.

Ancient Set details will appear here...
Notes & Tips #
Ancient Items have higher DEF or DMG than excellent grade items.
Ancient Items are unique because of their +Set Option.
Ancient Mastery Items can have their +Ancient Option rerolled via Mysterious Stone.
You can mix and match set names to obtain a mix of +Set Options from different sets at the same time.
If a character's base stats do not meet the item's base requirements, the +Set Option is not applied.
Ancient Items may possess the following additional options:

+Ancient Option
+Jewel of Life Option
+Jewel of Harmony Option
+Luck
+Skill
Page updated February 09, 2022 || b2022.12.18.002

---
Owned by Izak Thompson
All Rights Reserved || Copyright © 2012 ~ 2023
*WEBZEN IP, game content, and materials are trademarks and copyrights of Webzen Inc., and its Licensors, and is used with permission. © Webzen Inc. All rights reserved. The MU logo and the Webzen logo are trademarks of Webzen Inc.