Pentagrams
Advertisement:

Pentagrams give Elemental DMG and Elemental DEF. Once a Pentagram is equipped, a character will start dealing Elemental DMG to targets.
Pentagram Item Grades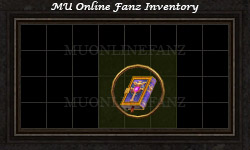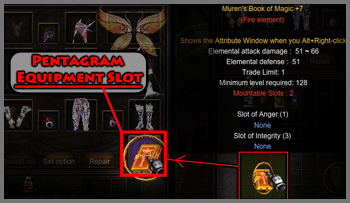 Item Grades are tiers of equipment. These are the Pentagram item grades:
Beginner: requires character level 1/100/150.
Normal: requires character level 150.
Rare: requires character level 180.
Unique: requires character level 300.
Elemental DMG Table #
All pentagrams have an Elemental Type. There are five elemental types: fire, water, earth, wind, and darkness. Each element affects each other elemental in its own unique way.

Elements affect each other's DMG/DEF by up to 20%.
Fire is super effective against Darkness.
In PVP, all Elemental DMG is increased by +160%!
PVP Elemental DMG example

Example: Wind DMG vs. Earth DEF
Total ELE DMG = (ELE DMG * 1.2) + (ELE DMG * (1.2 * 1.6))
How do I obtain Pentagram Item? #
Every character starts with the Pentagram for Beginners. Here is how you can obtain more powerful pentagram items:
Trade Limit #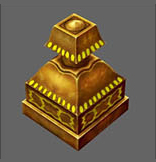 Pentagram have a Trade Limit which limits the amount of times it can be traded. You can increase the trade limit by using Tradable Seal item on it.
An item's Trade Limit decreases when it is traded or sold between two character.
An item's Trade Limit does not decrease when it is stored in Vault.
Beginner pentagrams have a Trade Limit of 5 when dropped by monsters.
Other pentagrams have a Trade Limit of 1 when dropped by monsters.
Trade Limit can be increased via Tradable Seal by one increment.
All pentagrams can increase Trade Limit up to 255 max.
Tradable Seal is purchased from the Cash Item Shop.
Tradable Seal can be traded, sold in Personal Store, and stored in Vault.
+Sockets & Errtel #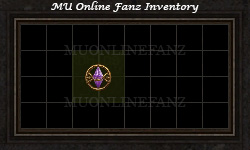 All Pentagrams will have at least one +Socket on the item. Special items known as Errtel can be inserted into pentagram sockets to further enhance the pentagram item.
Errtel can be crafted via NPC Adniel.
Errtel of Radiance can only be obtained via Elemental Capsule.
Elemental Capsule can be obtained via Disassemble feature.
You can insert errtel of any elemental type into pentagram items.
When errtel is inserted into a pentagram item, it will add the additional options listed on the errtel item to the pentagram.
Note: the Punish skill has an Elemental DMG limit of x250,000 ELE DMG.
---
Errtel Level & Errtel Rank
Errtel can only be upgraded from the Character Inventory.
Item Level and Rank Level can be upgraded via NPC Adniel.
Item Level can be increased up to +10, per Rank Level.
Item Level upgrade increases the Errtel Option value.
Rank Level can be increased up to Rank3.
Rank Level upgrade requires Item Level +7.
After the Rank Level is increased, the previous Rank Level cannot be upgraded anymore.
Each Rank Level unlocks an additional Errtel Option.
---
Disassemble System
The Disassemble feature is the only way to create Elemental Capsule. The Disassemble button in the Character Inventory, which can be used to disassemble Errtel and Ancient Item.
Errtel and Ancient Item can be disassembled.
Disassembling any item will create Elemental Powder x1.
Elemental Powder x50 will create Elemental Capsule (Normal) x1
Elemental Capsule is a reward box, which may contain:

Elemental Powder x2, x5, x10, x15
Elemental Rune x3, x5
Any Errtel
Blessing of Spirit
Expansion Scroll of Radiance Slot
Elemental Chaos Assembly Talisman
Elemental Talisman of Luck (10%)
Kundun's Madness Blade
Kundun's Magic Spell Scroll
Stronghold of the Empire Guardians
Ancient Icarus Scroll
Arca's Prophecy
Antonia's Sword
Kundun's Spell Scroll
Notes & Tips #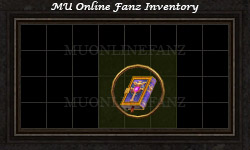 Pentagram UI displays the summary of elemental effects.
Pentagram UI is opened via Alt+Right-click on the item.
Errtel may only be applied to Pentagram when then item is unequipped.
Pentagram will enable Elemental DMG.
Pentagram increases Elemental DEF.
Possible Pentagram Item Element Type:

Fire
Water
Earth
Wind
Darkness

Each Element Type has a strength and weakness against another Element Type.
Pentagram may have up to 5 Pentagram Sockets.
Pentagram dropped by monsters will have a minimum of 2 Pentagram Sockets.
Pentagram dropped by monsters may have a max of 4 Pentagram Sockets.

Socket1: Anger
Socket2: Blessing
Socket3: Integrity
Socket4: Divinity
Socket5: Radiance

Socket5 must be unlocked via Expansion Scroll of Radiance Slot.
Errtel can be added to Pentagram Sockets, while the item is in the Character Inventory.
Removing Errtel from Pentagram Sockets can fail with a 50% chance.
Faling to remove Errtel from Pentagram Sockets will destroy the Errtel.
When current Skill Element Type matches Pentagram Element Type, Skill Imprint is enabled.
Skill Imprint causes additional Elemental DMG.
Beginner Pentagram Items #
Pentagram for Beginners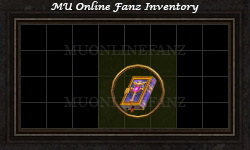 ELE ATK DMG: +25 ~ +40
ELE DEF: +25
Pentagram Option:
Pentagram ELE ATK DMG & ELE DEF +5%

Beginner Errtel of Anger required
Beginner Errtel of Blessing required
Beginner Errtel of Integrity required
Beginner Errtel of Divinity required
Muren's Book of Magic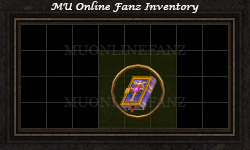 ELE ATK DMG: +30 ~ +45
ELE DEF: +30
Base Requirements:
Scroll of Etramu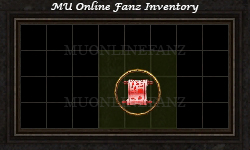 ELE ATK DMG: +50 ~ +70
ELE DEF: +50
Base Requirements:
Normal Pentagram Items #
Lorencia Knight's Iron Shield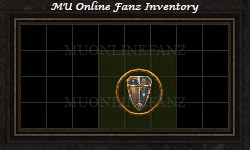 ELE ATK DMG: +96 ~ +129
ELE DEF: +231
Base Requirements:
Hero Elixir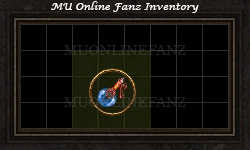 ELE ATK DMG: +134 ~ +180
ELE DEF: +184
Base Requirements:
Gladiator's Dagger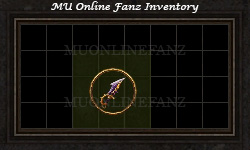 ELE ATK DMG: +168 ~ +227
ELE DEF: +132
Base Requirements:
Page updated March 07, 2023 || b2023.09.11.001

---
Owned by Izak Thompson
All Rights Reserved || Copyright © 2012 ~ 2023
*WEBZEN IP, game content, and materials are trademarks and copyrights of Webzen Inc., and its Licensors, and is used with permission. © Webzen Inc. All rights reserved. The MU logo and the Webzen logo are trademarks of Webzen Inc. Voluntary legal agreement established in 2021.