---
Jewel of Soul
The [Item Level] cannot be increased.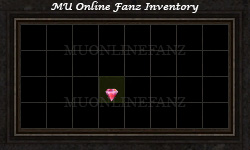 [Item Details]
Upgrades [Item Level] by 1 level.
It can upgrade [Item Level] up to [+9].
It has a [50% Success Rate].
If the upgrade fails:

[Item Level] [+0]: [Item Level] remains [+0]
[Item Level] [+1] ~ [+6]: [Item Level] decreases by 1
[Item Level] [+7] or [+8]: [Item Level] becomes [+0]
Notes & Links
Can be stacked (x50) in a single inventory space.
Dropped by most monsters at least [Level 30].
Very low [Drop Rate].
Related Items

Monster Drops
Click the link below to search for monsters which drop this item:
Buy us a coffee!
(x19,471,099) page views
• All Content Copyright
• © 2012 - 2021
• Published by
IZAKTLY STUDIO


WEBZEN
IP, game content, and materials are trademarks and copyrights of Webzen Inc., and its Licensors, and is used with permission. © All rights reserved.