---
Pentagram for Beginners
---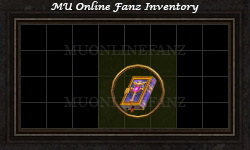 [Elemental DMG]: [+25 ~ 40]
[Elemental DEF]: [+25]
---
Requirements:
[Character Level]: [Level 1]
---
Search for this item in Monster Drop Tables > >
Possible [+Additional Option]
Trade Limit: 1/255
Socket 1, Socket 2, Socket 3, Socket 4, Socket 5
[Pentagram] [+Additional Option]
Pentagram [DMG] and [DEF] [+5%]*
*[Errtel of Anger], [Errtel of Blessing], [Errtel of Integrity], and [Errtel of Divinity] [Rank 1] [+0] required.
Related Items

Notes & Links
[Unique] [Pentagram Item] type
May be one of five different [Elemental Types]:

[Fire Element]
[Water Element]
[Earth Element]
[Darkness Element]
[Wind Element]

Cannot be traded, or sold in [Personal Store].
May be stored in the [Vault].
May be sold to [NPC].
Can only be obtained from [Pentagram Box].