---
Pentagram for Beginners

---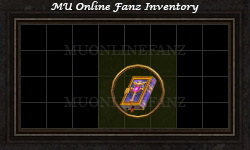 [Unique] [Pentagram Item] type
[Item Details]
[Elemental DMG]: [+25 ~ 40]
[Elemental DEF]: [+25]
[Requirements]
[Character Level]: [Level 1]
Possible [+Additional Option]
[Trade Limit]: [1/255]
[Socket 1], [Socket 2], [Socket 3], [Socket 4], [Socket 5]
[Pentagram] [+Additional Option]
Pentagram [DMG] and [DEF] [+5%]*
*[Errtel of Anger], [Errtel of Blessing], [Errtel of Integrity], and [Errtel of Divinity] [Rank 1] [+0] required.
Notes & Links
May be one of five different [Elemental Types]:

[Fire Element]
[Water Element]
[Earth Element]
[Darkness Element]
[Wind Element]

Cannot be traded, or sold in [Personal Store].
May be stored in the [Vault].
May be sold to [NPC].
Can only be obtained from [Pentagram Box].
Related Items

Monster Drops
Click the link below to search for monsters which drop this item:
• Total visits:
• 12868410
• All Content Copyright
• © 2012 - 2019
• Published by
IZAKTLY STUDIO


WEBZEN
IP, game content, and materials are trademarks and copyrights of Webzen Inc., and its Licensors, and is used with permission. © All rights reserved.