---
Scroll of Twister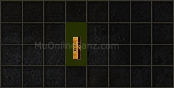 Requirements:
[ENE Level]: 180
[Character Level]: [Level 1]
[Character Class]: DW, SUM, MG
---
Search for this item in Monster Drop Tables > >
Notes & Links
[Skill Item]
(Right click to use the item)
---
---
*WEBZEN
IP, game content, and materials are trademarks and copyrights of Webzen Inc., and its Licensors, and is used with permission. © Webzen Inc. All rights reserved. The MU logo and the Webzen logo are trademarks of Webzen Inc.
Build 0.0.0.001