---
[Deruvish]
Related Links
:
[Acheron]
-
[Acheron Research]
---
[Acheron]
is a mysterious island, near the continent of [MU], which recently became riddled with unique elemental monsters. NPC [Deruvish] can be found camping in [Acheron]. He came here along with members of
[Vanert]
in search of
[Secromicon Fragments]
. The elemental monsters were far too strong, forcing
[Vanert]
to flee. NPC [Deruvish], however, stayed behind in order to research the area and gain the knowledge needed to fight the elemental monsters.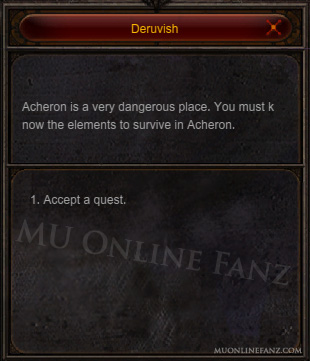 NPC [Deruvish] has studied Acheron greatly, but he is not sure how this all came to be. He knows [Acheron] was once a tranquil place, filled with peaceful spirits of elemental energy. However, something has corrupted them with evil, and now they are hostile and possess physical strength. Most likely, this is [Kundun's] evil doing. The little information known, currently, is that the monsters' special elemental energy can be weakened with [Pentagrams]. [Pentagrams] are an accessory which protect against evil spirits' elemental effects. You will need a [Pentagram] to survive in [Acheron].
Additional Information
NPC [Deruvish] offers [Story] [Quests] and repeatable [Quests].
All of the [Story] [Quests] must be completed in order to take repeatable [Quests].
All repeatable [Quests] have [Character Level] restrictions, which a character must be within in order to be offered that [Quest].
[Quest] guide: [Acheron Research]
Buy us a coffee!
(x17,955,689) page views
• All Content Copyright
• © 2012 - 2020
• Published by
IZAKTLY STUDIO


WEBZEN
IP, game content, and materials are trademarks and copyrights of Webzen Inc., and its Licensors, and is used with permission. © All rights reserved.