---
Doorkeeper Titus
Related Links
:
[Player vs Player]
---
[Doorkeeper Titus] is the manager of the [Colosseum] duel arena. Speak with him in order to watch any [Duel] which is currently happening in the [Colosseum].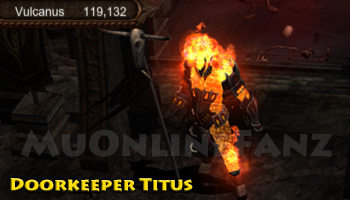 Located in [Vulcanus] @(122, 134).
Allows players to spectate any on-going [Duels] in the [Server].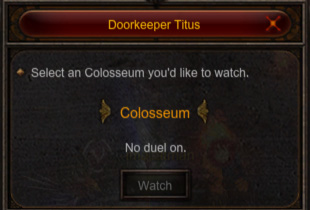 Click [Watch] to enter the [Room] which a [Duel] is taking place.
Additional Info
Spectating characters will enter the [Colosseum] [Room] but will appear transparent.
Spectating characters will have restricted use of [Character Commands], while in the [Colosseum].
The players which are dueling cannot see spectators, or their chat, while in the [Colosseum].
Buy us a coffee!
(x18,715,895) page views
• All Content Copyright
• © 2012 - 2020
• Published by
IZAKTLY STUDIO


WEBZEN
IP, game content, and materials are trademarks and copyrights of Webzen Inc., and its Licensors, and is used with permission. © All rights reserved.