Excellent Ring of Earth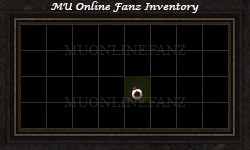 Search monster drops >>
Earth Resistance: +1
Durability: 65/65
---
Requirements:
Possible +Additional Option
+Excellent Option (x2):

HP +4%
Mana +4%
DEF Rate +10%
Decrease DMG +4%
Reflect DMG +5%
Amount of Zen dropped from hunting monsters +30%

+Accessory Option (x1):

Auto HP Recovery +1%, +2%, +3%
Related Items
This is a list of items that are somehow related to Excellent Ring of Earth! Check them out below.
Notes & Links
This is an

excellent

grade item.
Learn about

excellent

grade items on our excellent items guide.
Find general information about equipment items on our equipment items guide.
Learn all about additional options that can be bound to equipment on our +additional option guide.
b2022.12.18.002

---
Owned by Izak Thompson
All Rights Reserved || Copyright © 2012 ~ 2023
*WEBZEN IP, game content, and materials are trademarks and copyrights of Webzen Inc., and its Licensors, and is used with permission. © Webzen Inc. All rights reserved. The MU logo and the Webzen logo are trademarks of Webzen Inc.