Pentagram for Beginners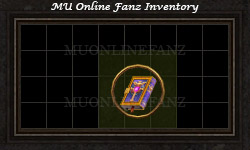 Search monster drops >>
Item Details
Elemental DMG: +25 ~ 40
Elemental DEF: +25
---
Requirements:
Possible +Additional Option
Trade Limit: 1/255
1 ~ 5 Sockets
Pentagram +Additional Option
Pentagram [DMG] and [DEF] [+5%]*
*[Errtel of Anger], [Errtel of Blessing], [Errtel of Integrity], and [Errtel of Divinity] [Rank 1] [+0] required.
Related Items
This is a list of items that are somehow related to Pentagram for Beginners! Check them out below.
Notes & Links
Learn more about this item on our pentagram items guide.
May be one of five different Elemental Types:

Fire Element
Water Element
Earth Element
Darkness Element
Wind Element

Cannot be traded, or sold in Personal Store.
May be stored in the Vault.
May be sold to NPC.
Can only be obtained from Pentagram Box.
b2022.12.18.002

---
Owned by Izak Thompson
All Rights Reserved || Copyright © 2012 ~ 2023
*WEBZEN IP, game content, and materials are trademarks and copyrights of Webzen Inc., and its Licensors, and is used with permission. © Webzen Inc. All rights reserved. The MU logo and the Webzen logo are trademarks of Webzen Inc.