Salvation's Bloodangel Elf Pants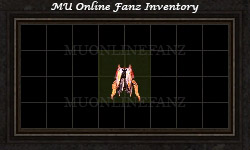 Search monster drops >>
Item Details
---
Requirements:
Strength: 88
Agility: 161
Energy: 1070
Character Level 400
Class: [High Elf]
+Set Option
As you equip multiple items from the Salvation's Bloodangel Elf set, you'll unlock +Set Options as shown below!
x2 items:
Energy Level +50

---
Greater Damage skill +7%


x3 items:
Greater Defense skill +7%

---
DEF +7%, if Shield item is equipped


x4 items:
Bless Buff value +10

---
DEF +40

---
HP +70

---
All Stat Levels +10

---
Base DEF +40

Related Items
This is a list of items that are somehow related to Salvation's Bloodangel Elf Pants! Check them out below.
b2022.12.18.002

---
Owned by Izak Thompson
All Rights Reserved || Copyright © 2012 ~ 2023
*WEBZEN IP, game content, and materials are trademarks and copyrights of Webzen Inc., and its Licensors, and is used with permission. © Webzen Inc. All rights reserved. The MU logo and the Webzen logo are trademarks of Webzen Inc.