Red Dragon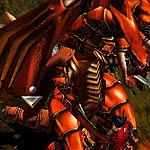 Monster details:
Monster Level: Level 47
Max HP: 15,000
ATK DMG: 190 ~ 210
ATK Rate: 400
DEF: 120
Data updated July 28, 2022

---
Spawns in Lorencia, Noria, or Devias.
[Lorencia] Normal [Drop Table]
This monster spawns in multiple maps. Select a map to view the relative [Drop Table]:
General Drop Table
Miscellaneous:

Data updated July 28, 2022

b2022.12.18.002

---
Owned by Izak Thompson
All Rights Reserved || Copyright © 2012 ~ 2023
*WEBZEN IP, game content, and materials are trademarks and copyrights of Webzen Inc., and its Licensors, and is used with permission. © Webzen Inc. All rights reserved. The MU logo and the Webzen logo are trademarks of Webzen Inc.