Doorkeeper Titus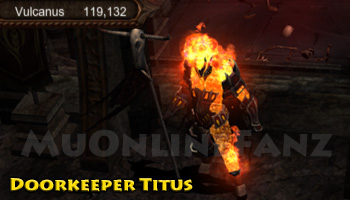 Overview:
Miscellaneous NPC
Location:
Doorkeeper Titus, is the manager of the Colosseum. The Colossem is a duel arena where friendly PVP combat can take place. You can also watch any on-going duels by speaking with him.
Colosseum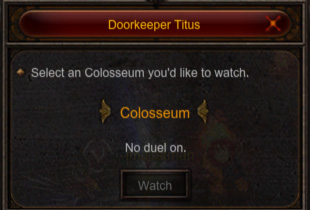 Allows players to spectate any on-going Duels in the Server.
Click Watch to enter the Room which a Duel is taking place.
Notes & Tips
Spectating characters will enter the Colosseum Room but will appear transparent.
Spectating characters will have restricted use of Character Commands, while in the Colosseum.
The players which are dueling cannot see spectators, or their chat, while in the Colosseum.
b2022.12.18.002

---
Owned by Izak Thompson
All Rights Reserved || Copyright © 2012 ~ 2023
*WEBZEN IP, game content, and materials are trademarks and copyrights of Webzen Inc., and its Licensors, and is used with permission. © Webzen Inc. All rights reserved. The MU logo and the Webzen logo are trademarks of Webzen Inc.