Blood Castle
Related links
:
Event Square
---
Jump to
:
Game-play
-
Monster List
-
Rewards
---
Archangel's Castle has been plundered by Kundun's Army of Evil! They've stolen the Absolute Weapon!
How To Participate
Invisibility Cloak
is a craftable item via NPC
Chaos Goblin Machine
:

You can purchase the crafting ingrediants from the following NPCs:
Level Restrictions
Stage One: Level 50~179
Stage Two: Level 180~269
Stage Three: Level 270~349
Stage Four: Level 350~399
Stage Five: Level 400~500
Stage Six: Level 501~650
Stage Seven: Level 651+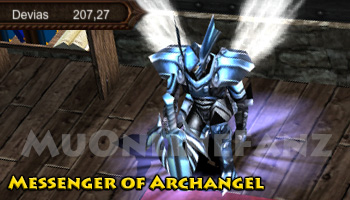 Event Times
00:10 UTC
00:40 UTC
01:10 UTC
01:40 UTC
02:10 UTC
02:40 UTC
03:10 UTC
03:40 UTC
05:10 UTC
07:10 UTC
09:10 UTC
11:10 UTC
13:10 UTC
15:10 UTC
17:10 UTC
19:10 UTC
21:10 UTC
21:40 UTC
22:10 UTC
22:40 UTC
23:10 UTC
23:40 UTC
Game-play
The arena is a long bridge, which leads to Archangel's Castle.
Speak with the Messenger of Archangel (in the safe-zone), before the event starts.
The Castle has been plundered by Kundun's army; return Archangel's weapon to complete the mini-game.
Once the event starts, monsters will clutter the bridge, making travel difficult.
Kill monsters along the bridge to clear a path to the Castle.
Steps to win the event (in consecutive order):

Kill monsters on the bridge (40 kills per player in a party)
Destroy the Castle gate
Kill Magic Skull inside the Castle (2 kills per player in a party)
Destroy the Spirit Statue in the Castle, which holds the Archangel's Weapon.
Recover the Archangel's Weapon and return it.

Survive the entire length of the event (15 minutes).
Earn the most event contribution.

It is recommended you make a party with other players to maximize event contribution.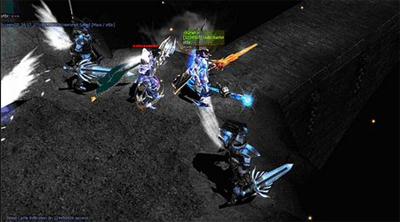 Rules
General:

Minimum 1 player; maximum 10 players

Game-play:

Parties allowed, and suggested.
If a player dies, the player is removed from the mini-game.

Restrictions:

No players with PK status allowed.
Trade is not allowed.

Notes:

Town Portal Scroll warps players to Event Square.
No penalty for player death; items not dropped on death.
Event Contribution
Party: monster kill
Individual: gate destruction, stone statue destruction, return the Absolute Weapon
(*Any Elf character with more than 1500 energy, will earn contribution points according to their party members.)
Monster List
Stage 1
Orc Warrior (Lv 56)
Orc Archer (Lv 61)
Dark Skull Soldier (Lv 66)
Giant Ogre (Lv 70)
Red Skeleton Knight (Lv 74)
Magic Skeleton (Lv 79)
Stage 2
Orc Warrior (Lv 64)
Orc Archer (Lv 69)
Dark Skull Soldier (Lv 75)
Giant Ogre (Lv 79)
Red Skeleton Knight (Lv 82)
Magic Skeleton (Lv 84)
Stage 3
Orc Warrior (Lv 70)
Orc Archer (Lv 75)
Dark Skull Soldier (Lv 80)
Giant Ogre (Lv 85)
Red Skeleton Knight (Lv 87)
Magic Skeleton (Lv 90)
Stage 4
Orc Warrior (Lv 76)
Orc Archer (Lv 81)
Dark Skull Soldier (Lv 86)
Giant Ogre (Lv 90)
Red Skeleton Knight (Lv 94)
Magic Skeleton (Lv 99)
Stage 5
Orc Warrior (Lv 85)
Orc Archer (Lv 87)
Dark Skull Soldier (Lv 90)
Giant Ogre (Lv 93)
Red Skeleton Knight (Lv 98)
Magic Skeleton (Lv 102)
Stage 6
Orc Warrior (Lv 110)
Orc Archer (Lv 112)
Dark Skull Soldier (Lv 118)
Giant Ogre (Lv 120)
Red Skeleton Knight (Lv 127)
Magic Skeleton (Lv 135)
Stage 7
Orc Warrior (Lv 114)
Orc Archer (Lv 117)
Dark Skull Soldier (Lv 125)
Giant Ogre (Lv 129)
Red Skeleton Knight (Lv 132)
Magic Skeleton (Lv 140)
Rewards
---
[Advertisement]:

---