The Dark Stone
Related Links
:
Ring of Glory
---
Jump to
:
Rewards
---
Difficulty: Easy
Required Level: 220
Character: Blade Knight
Required item: 3,000,000 Zen
Required Quests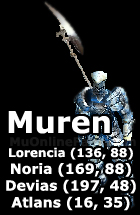 Muren can be found roaming about in either Lorencia
(Co-ord:136,88)
, Noria
(Co-ord:169,88)
, Devias
(Co-ord:197,48)
, or Atlans
(Co-ord:16,35)
; he changes his location every few minutes.
Speak with Muren and he will request 3,000,000 Zen in exchange for information about the Dark Stone. He will tell you about the sacred Dark Stone and how it has been stolen by Kundun's army! It will be your mission to find and return the Dark Stone!
The Dark Stone
According to historic reports, the Dark Stone could be in Tarkan, Kanturu, Icarus, Aida, Swamp of Peace, Crywolf, The Land of Trials, Vulcanus, Acheron, or even La Cleon! It is noted Tarkan and Icarus are areas of higher probability.
Notes
Common drop
Obtainable in a party.
Cannot be traded, sold, or put into storage.
Item cannot be picked up unless the quest is active.
MU Helper Terms: Stone, Dark, Dark Stone
Areas to Hunt
Tarkan*
Icarus*
Adia*
Kanturu
Land of Trials
Crywolf
Vulcanus
Karutan
Acheron
La Cleon
Swamp of Peace
*recommended hunting location
Monsters to Hunt
Tarkan
Icarus
Land of Trials
Aida
Kanturu
Crywolf
Vulcanus
Karutan
Acheron
La Cleon
Swamp of Peace
Rewards
Once you've obtained the sacred Stone, return it to Muren for your reward!
---
[Advertisement]:

---