---
Horn of Fenrir +Illusion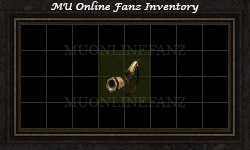 ---
Requirements:
[Character Level]: [Level 300]
---
Search for this item in Monster Drop Tables > >
[+Pet Option]
Plasma Storm (Mana: 50)
Increase HP +200
Increase Mana +200
Increase Damage +33
Increases Wizardry Damage +16
Related Items

Notes & Links
[Mount Item]
(Right click to mount the item)
Equipped via [Right-click].
This [Mount] can be healed with a [Jewel of Life], with a [50% Success Rate].
If this [Mount] reaches zero [HP], it is destroyed.
Can only be obtained from [Castle Seige] [Mini-game], or promotional events.