---
Chaos Card Master
Related Links
:
[Cash Item Shop]
---
[Chaos Card Master] exchanges [Chaos Cards] for random rewards!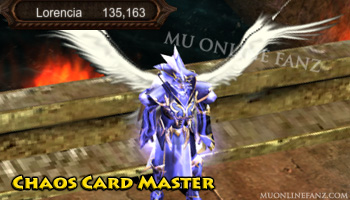 This [NPC] has been discontinued.
This [NPC] is currently not available in the game.
Additional Info
Previously, [Chaos Card] items were exchanged through this [NPC] for rewards.
[Chaos Card] was sold in the [Cash Item Shop], but are now also discontinued.
Buy us a coffee!
(x18,716,201) page views
• All Content Copyright
• © 2012 - 2020
• Published by
IZAKTLY STUDIO


WEBZEN
IP, game content, and materials are trademarks and copyrights of Webzen Inc., and its Licensors, and is used with permission. © All rights reserved.