---
David
Related Links
:
Jewel of Extension
-
Cash Item Shop
---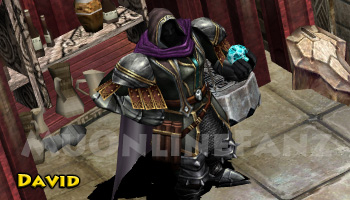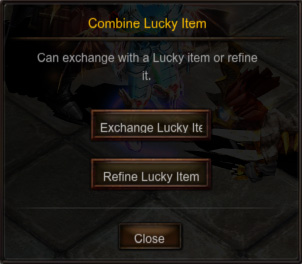 David can create "Lucky Armor" sets which can only be crafted with a Lucky Item Ticket.
Exchange Lucky Item
Exchange the following Lucky Item Tickets for its corresponding armor piece.

1st Lucky Helm Ticket
1st Lucky Armor Ticket
1st Lucky Pants Ticket
1st Lucky Boots Ticket
1st Lucky Gloves Ticket
2nd Lucky Helm Ticket
2nd Lucky Armor Ticket
2nd Lucky Pants Ticket
2nd Lucky Boots Ticket
2nd Lucky Gloves Ticket

The item received will be based on the character's class which exchanges the ticket.
Armor pieces act as ancient set items and will activate more additional options as you wear more of the complete set.
Items received can have a base level of +0 ~ +15 with +Luck and +Option attributes randomly generated.
Items received cannot be upgraded.
Items cannot be traded, stored, or sold in the personal store.
Items can only be repaired via Jewel of Extension, which recovers full durability.
Items with zero durability can be refined into Jewel of Extension.
Refine Lucky Item
Refine Lucky Item Ticket into Jewel of Extension

Success rate is unknown (not 100%)

Refine Lucky Item set piece into Jewel of Extension.

Success rate is unknown - not 100%
Items refined with more durability seem to have a higher success rate.
Items refined with zero durability have a very low chance to refine successfully.
[Advertisement]:

• Total visits:
• 11580188
• All Content Copyright
• © 2012 - 2019
• Published by
IZAKTLY STUDIO


WEBZEN
IP, game content, and materials are trademarks and copyrights of Webzen Inc., and its Licensors, and is used with permission. © All rights reserved.