---
Gens Vanert Steward
Related Links
:
Gens Guide
---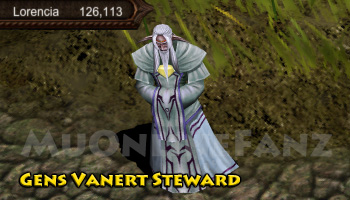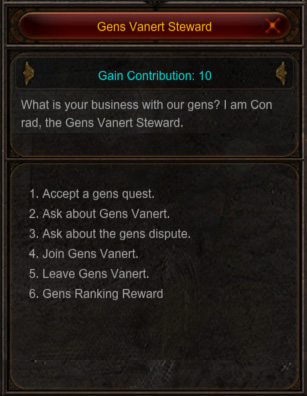 Conrad is the Gen Vanert Steward. Speak with him to learn more about Gens Vanert.
This NPC can be found in the safe-zones of Noria (168, 99).
Option (1): Accept a quest (must be a member of V Gens)
Option (4): Join Gens Vanert

Requires a level 50 character
Cannot be a member of Duprian Gens

Option (5): Leave Gens Vanert
Option (6): Receive any Gens rewards you've earned.
If you are a member of Gens Vanert, your current amount of Contribution Points will be displayed at the top of this NPC's menu. (see image)
Check the
Gens Guide
for more info about the Gens system.
Conrad's Story...
"Gens Vanert is a noble family led by Vanert Reicht, the greatest socialite around the clock to put a stop to Duprian Winston and his dream of absolute rule over the empire.
Vanert Reicht may have conceded leadership of Noble Alliance Arca to Duprian Winston at the alliance's inception, but the master has always remained committed to eliminating the foul minions of Kundun and to the revival of the MU empire. Everyone knows about Duprian Winston's desires to subjugate the empire under his absolute rule. It's imperative that heroes like you help Vanert Reicht seal away Kundun and restore peace to the MU empire."
[Advertisement]:

• Total visits:
• 11580189
• All Content Copyright
• © 2012 - 2019
• Published by
IZAKTLY STUDIO


WEBZEN
IP, game content, and materials are trademarks and copyrights of Webzen Inc., and its Licensors, and is used with permission. © All rights reserved.