---
Priest James
Related Links
:
[Ancient Mastery Sets]
---
Jump to
:
[Item Shop List]
---
[Priest James] owns an item shop with various mastery tier items for sale like equipment, skill items, and crafting ingredients.
Additional info
Location:

[Event Square] (215, 55)
[Elveland] (32, 239)

[Priest James] item shop only accepts [Ruud] for purchases.
The only equipment available in the item shop will fit the character's class.
What is [Ruud]?
[Ruud] is a currency, like [Zen], which can be earned from opening any [Mastery Box]. [Mastery Box] can be obtained based on the amount of [Contribution Points] earned while playing mini-games with a [Master Level] character.
[Ruud] is [Bound] and stored in the [Equipment Inventory].
[Ruud] is earned from opening any [Mastery Box].
The [Mastery Box] may be rewarded to [Master Level] characters from the following minigames:

[Chaos Castle]
[Blood Castle]
[Devil Square]
[Illusion Temple]
[Doppelganger]
[Empire Guardians] (Varka)

[Ruud] can be earned from special [WEBZEN] promotions.
---
---
Item Shop List
Weapons
Armor
Skill items
Mastery Items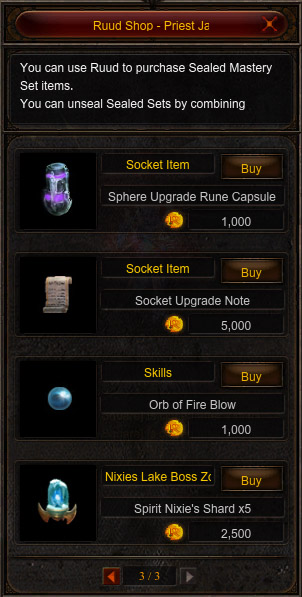 ---
---
• Total visits:
• 11195025
• All Content Copyright
• © 2012 - 2019
• Published by
IZAKTLY STUDIO