Horn of Fenrir +Illusion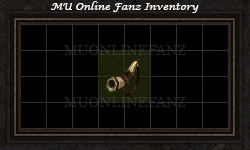 Search monster drops >>
+Pet Option
Plasma Storm (Mana: 50)
Increase HP +200
Increase Mana +200
Increase Damage +33
Increases Wizardry Damage +16
Related Items
This is a list of items that are somehow related to Horn of Fenrir +Illusion! Check them out below.
Notes & Links
Learn more about this item on our mounts & pets guide.
Equipped via Right-click.
This Mount can be healed with a Jewel of Life, with a 50% Success Rate.
If this Mount reaches zero HP, it is destroyed.
Can only be obtained from Castle Seige Mini-game, or promotional events.
*WEBZEN
IP, game content, and materials are trademarks and copyrights of Webzen Inc., and its Licensors, and is used with permission. © Webzen Inc. All rights reserved. The MU logo and the Webzen logo are trademarks of Webzen Inc.
Build 0.0.0.001