Chaos Card Master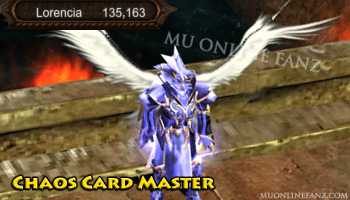 Overview:
Miscellaneous NPC
Location:
Discontinued NPC.

In previous versions, this NPC was used as a loot box system. Players could purchase a Choas Card item on the web item shop and exchange it with this NPC to recieve an item. Essentially, it used the in-game crafting system to create a loot box system.
Notes & Tips
This NPC has been discontinued.
This NPC is currently not available in the game.
Previously, Chaos Card items were exchanged through this NPC for rewards.
Chaos Card items are no longer obtainable.
b2022.12.18.002

---
Owned by Izak Thompson
All Rights Reserved || Copyright © 2012 ~ 2023
*WEBZEN IP, game content, and materials are trademarks and copyrights of Webzen Inc., and its Licensors, and is used with permission. © Webzen Inc. All rights reserved. The MU logo and the Webzen logo are trademarks of Webzen Inc.