Gens Duprian Steward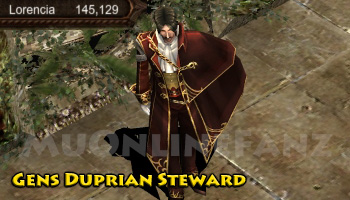 Overview:
Miscellaneous NPC
Location:
Gregory, a Gens Steward, represents the Duprian family. A Gens is essentially a clan. The Duprian family is descendant from one of the most noble bloodlines in Mu. The family is lead by a high ranking knight named Winston.
Joining a Gens
Speak with Gregory to join Duprian.
Check the Gens guide for more details.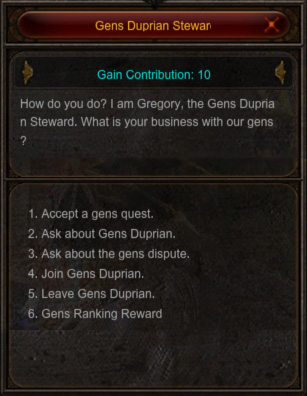 Game Lore...
Gens Duprian is a guild of the greatest heroes in Arca, and at its heart is the Duprian Clan, which is known as the mightiest noble bloodline in MU. They are led by Duprian Winston, a knight who knows no equal in the entire MU empire. You are wondering about the dispute between the two Gens? Its because of Gens Vanert's rebellion. The Gens dispute started because of the greed of Vanert Reicht, the commanding knight of Gens Vanert. Five years ago, a band of heroes were searching Raklion for a stone with the power to seal away Kundun, and they were slaughtered. At that time, we had believed it was the work of Selupan, a giant spider and the ruler of Raklion. However, we soon learned that it was actually an act of Gens Vanert. It is the duty of our proud Gens Duprian champions to retaliate and fight.
b2022.12.18.002

---
Owned by Izak Thompson
All Rights Reserved || Copyright © 2012 ~ 2023
*WEBZEN IP, game content, and materials are trademarks and copyrights of Webzen Inc., and its Licensors, and is used with permission. © Webzen Inc. All rights reserved. The MU logo and the Webzen logo are trademarks of Webzen Inc.