Gens Vanert Steward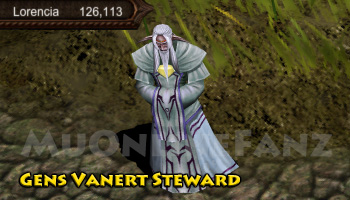 Overview:
Miscellaneous NPC
Location:
Conrad, a Gens Steward, represents the Vanert family. A Gens is essentially a clan. The Vanert family led by a well known socialite, Reicht. He strives put a stop to Winston. Reicht believes Winston's goal is an absolute rule over the Mu empire.
Joining a Gens
Speak with Conrad to join Vanert.
Check the Gens guide for more details.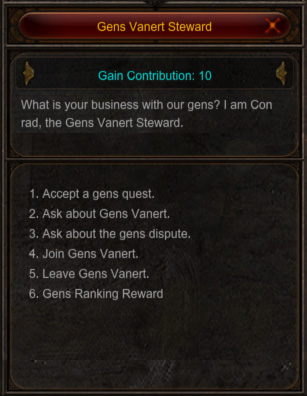 Game Lore...
Gens Vanert is a noble family led by Vanert Reicht, a great socialite. Vanert Reicht believes the ultimate goal of Duprian Clan is an absolute rule over the MU empire and therefore rebels against them. Vanert Reicht has always remained committed to eliminating the foul minions of Kundun, and to the revival of the MU empire, but doesn't wish to see it under the rule of the Duprian Clan. Everyone knows that Duprian Winston desires to subjugate the empire and put it under his absolute rule. It's imperative that heroes like you help Vanert Reicht seal away Kundun and restore entire peace to the MU empire.
b2022.12.18.002

---
Owned by Izak Thompson
All Rights Reserved || Copyright © 2012 ~ 2023
*WEBZEN IP, game content, and materials are trademarks and copyrights of Webzen Inc., and its Licensors, and is used with permission. © Webzen Inc. All rights reserved. The MU logo and the Webzen logo are trademarks of Webzen Inc.