Guard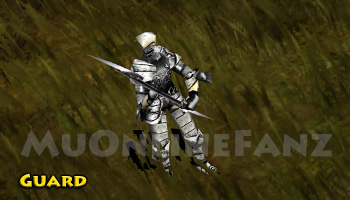 Overview:
Miscellaneous NPC
Location:
In previous versions, this NPC was used to combat players with a PK Status. If a players had a murderer PK Status, the NPC would attack the player on sight! This NPC cannot be attacked.
Notes & Tips
The NPC wanders randomly around Lorencia.
You cannot attack or interact with this NPC.
In previous versions, this NPC would attack players with PK Status.
This NPC is basically pointless. 😐
b2022.12.18.002

---
Owned by Izak Thompson
All Rights Reserved || Copyright © 2012 ~ 2023
*WEBZEN IP, game content, and materials are trademarks and copyrights of Webzen Inc., and its Licensors, and is used with permission. © Webzen Inc. All rights reserved. The MU logo and the Webzen logo are trademarks of Webzen Inc.