Mercenary Guild Manager Tercia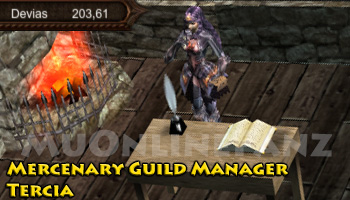 Discontinued NPC.

In previous versions, this NPC offered the Daily Quests. The quests could be completed once per day and the task of the quest changed each day. A daily quests system still exist, but now you simply accept these quests directly from the Quest Menu.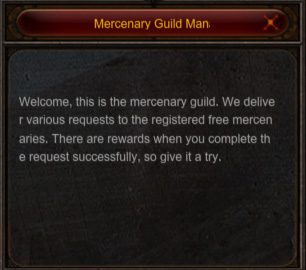 Daily Quests
This NPC offered a unique quest for each day of the week.
Required Character Level 350
Required items: Zen x1,000,000
Difficulty: moderate
Game Lore...
The Mercenary Guild is a strong Guild which has been known for ultimately preventing Kundun from breeching MU's main cities, several times. Since then, several Guild Members have retired and now the Guild needs extra assistance slaying monsters. The Guild is actively recruiting players, as a Free Mercenary, to kill monsters. A Free Mercenary is not technically a part of the Guild, but it is an established rank amongst the Mercenary Guild, and, as such, you will earn respect from it. It will cost Zen (x1,000,000) to register with the Guild.
b2022.12.18.002

---
Owned by Izak Thompson
All Rights Reserved || Copyright © 2012 ~ 2023
*WEBZEN IP, game content, and materials are trademarks and copyrights of Webzen Inc., and its Licensors, and is used with permission. © Webzen Inc. All rights reserved. The MU logo and the Webzen logo are trademarks of Webzen Inc.