Priestess Veina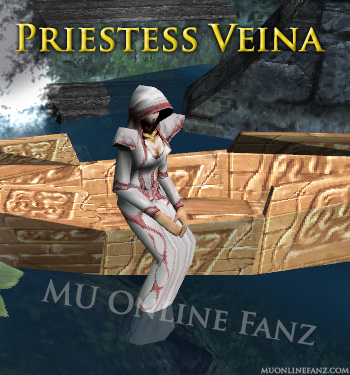 Priestess Veina has put in a request to the Mercenary Guild, looking for an adventurer to complete a task. The Quests are offered on Monday and Thursday to characters that are at least Character Level Level 350. Speak with the Mercenary Guild Manager in order to start the Quests.
Daily Quests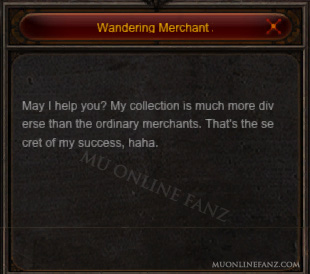 Part of the Daily Quests on Monday and Thursday:

Request from the Underwater Temple
Requests from the Priestess

Level required: at least level 350
Difficulty: moderate
Notes & Tips
Located only in the Kalima 6 map.
Check the Mercenary Guild guide for more details.
Game Lore...
The Mercenary Guild is a strong Guild which has been known for ultimately preventing Kundun from breeching MU's main cities, several times. Since then, several Guild Members have retired and now the Guild needs extra assistance slaying monsters. The Guild is actively recruiting players, as a Free Mercenary, to kill monsters. A Free Mercenary is not technically a part of the Guild, but it is an established rank amongst the Mercenary Guild, and, as such, you will earn respect from it. It will cost Zen (x1,000,000) to register with the Guild.
b2022.12.18.002

---
Owned by Izak Thompson
All Rights Reserved || Copyright © 2012 ~ 2023
*WEBZEN IP, game content, and materials are trademarks and copyrights of Webzen Inc., and its Licensors, and is used with permission. © Webzen Inc. All rights reserved. The MU logo and the Webzen logo are trademarks of Webzen Inc.