Devil Square
Related links
:
Event Square
---
Jump to
:
Game-play
-
Monster List
-
Rewards
---
Devil Square is an arena that surrounds the great Immoral Tree. At times, evil monsters are born from this Tree! Warriors come to this arena to team up and train their skills against the evil monsters!
How To Participate
Devil Square Invitation
is a craft-able item via NPC
Chaos Goblin Machine
:

You can purchase the crafting ingredients from the following NPC:
Level Restrictions
Stage One: Level 50~179
Stage Two: Level 180~269
Stage Three: Level 270~349
Stage Four: Level 350~399
Stage Five: Level 400~500
Stage Six: Level 501~650
Stage Seven: Level 651+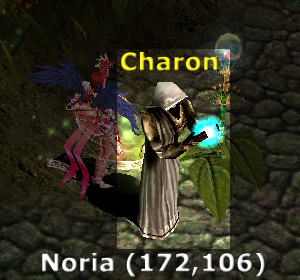 Event Times
00:20 UTC
00:50 UTC
01:20 UTC
01:50 UTC
02:20 UTC
02:50 UTC
03:20 UTC
03:50 UTC
05:20 UTC
07:20 UTC
09:20 UTC
11:20 UTC
13:20 UTC
15:20 UTC
17:20 UTC
19:20 UTC
21:20 UTC
21:50 UTC
22:20 UTC
22:50 UTC
23:20 UTC
23:50 UTC
Game-play
The arena is large, but there will be 200 monsters in the arena at one time.
The monster count does not decrease, as monsters are killed. (monsters re-spawn)
Monsters will continue to re-spawn for 15 minutes.
As time progresses, the monsters will change and difficulty will increase.
Steps to win the event:

Survive the entire length of the event (15 minutes).
Earn the most event contribution.

It is recommended you make a party with other players to maximize event contribution.
Rules
General:

Minimum 1 player; maximum 10 players

Game-play:

Parties allowed, and suggested.
If a player dies, the player is removed from the mini-game.

Restrictions:

No players with PK status allowed.

Notes:

Town Portal Scroll warps players to Event Square.
No penalty for player death; items not dropped on death.
Event Contribution
Monster kills
(*Any Elf character with more than 1500 energy, will earn contribution points according to their party members.)
Monster List
Stage 1
Cyclops (Lv 28)
Skeleton Archer (Lv 34)
Hell Hound (Lv 38)
Hell Spider (Lv 40)
Poison Bull Fighter (Lv 46)
Shadow (Lv 47)
Gorgon (Lv 55)
Stage 2
Death Cow (Lv 57)
Devil (Lv 60)
Death Gorgon (Lv 64)
Schriker (Lv 69)
Orc Archer (Lv 70)
Elite Orc (Lv 74)
Metal Balrog (Lv 77)
Stage 3
Axe Warrior (Lv 75)
Bloody Wolf (Lv 76)
Death Angel (Lv 74)
Mega Crust (Lv 78)
Beam Knight (Lv 84)
Drakan (Lv 86)
Fire Golem (Lv 102)
Stage 4
Lizard Warrior (Lv 78)
Iron Wheel (Lv 80)
Queen Rainer (Lv 83)
Poison Golem (Lv 84)
Alpha Crust (Lv 92)
Queen Bee (Lv 92)
Illusion of Kundun (Lv 100)
Stage 5
Crypta (Lv 111)
Crypos (Lv 114)
Berserker Warrior (Lv 123)
Dreadfear (Lv 119)
Queen Sapi (Lv 131)
Genocider Warrior (Lv 129)
Dark Elf (Lv 135)
Stage 6
Blaze Napin (Lv 107)
Condra (Lv 117)
Narcondra (Lv 120)
Kentarious Warrior (Lv 126)
Gigantis Warrior (Lv 128)
Queen Sapi (Lv 131)
Ice Napin (Lv 135)
Stage 7
Crypta (Lv 111)
Crypos (Lv 114)
Dreadfear (Lv 119)
Berserker Warrior (Lv 123)
Genocider Warrior (Lv 129)
Queen Sapi (Lv 131)
Shadow Master (Lv 137)
Rewards
Event Winner Reward
Monster Drop Reward List
You can also obtain the following excellent items during the event by killing monsters:
Stage 1
Armor Sets
Exc Scale Helm
Exc Scale Armor
Exc Scale Pants
Exc Scale Boots
Exc Scale Gloves
Exc Sphinx Helm
Exc Sphinx Armor
Exc Sphinx Pants
Exc Sphinx Boots
Exc Sphinx Gloves
Exc Violent Wind Helm
Exc Violent Wind Armor
Exc Violent Wind Pants
Exc Violent Wind Boots
Exc Violent Wind Gloves
Exc Wind Helm
Exc Wind Armor
Exc Wind Pants
Exc Wind Boots
Exc Wind Gloves
Exc Robust Helm
Exc Robust Armor
Exc Robust Pants
Exc Robust Boots
Exc Robust Gloves
Weapons
Exc Double Axe
Exc Tomahawk
Exc Morning Star
Exc Flail
Exc Rapier
Exc Sword of Assassin
Exc Katana
Exc Gladius
Exc Falchion
Exc Double Poleaxe
Exc Halberd
Exc Dragon Lance
Exc Lapid Lance
Exc Golden Crossbow
Exc Elven Bow
Exc Arquebus
Exc Battle Bow
Exc Battle Scepter
Staffs, Sticks, Books
Exc Angelic Staff
Exc Serpent Staff
Exc Mystery Stick
Exc Violent Wind Stick
Shields
Exc Horn Shield
Exc Kite Shield
Exc Lapid Shield
Exc Skull Shield
Exc Large Round Shield
Exc Elven Shield
Stage 2
Armor Sets
Exc Brass Helm
Exc Brass Armor
Exc Brass Pants
Exc Brass Boots
Exc Brass Gloves
Exc Plate Helm
Exc Plate Armor
Exc Plate Pants
Exc Plate Boots
Exc Plate Gloves
Exc Light Plate Helm
Exc Light Plate Armor
Exc Light Plate Pants
Exc Light Plate Boots
Exc Light Plate Gloves
Exc Redwing Helm
Exc Redwing Armor
Exc Redwing Pants
Exc Redwing Boots
Exc Redwing Gloves
Exc Spirit Helm
Exc Spirit Armor
Exc Spirit Pants
Exc Spirit Boots
Exc Spirit Gloves
Exc Sphinx Helm
Exc Sphinx Armor
Exc Sphinx Pants
Exc Sphinx Boots
Exc Sphinx Gloves
Exc Robust Helm
Exc Robust Armor
Exc Robust Pants
Exc Robust Boots
Exc Robust Gloves
Weapons
Exc Elven Axe
Exc Battle Axe
Exc Serpent Sword
Exc Sword of Salamander
Exc Blade
Exc Light Spear
Exc Spear
Exc Giant Trident
Exc Lapid Lance
Exc Light Crossbow
Exc Battle Scepter
Staffs, Sticks, Books
Exc Thunder Staff
Exc Gorgon Staff
Exc Red Wing Stick
Shields
Exc Plate Shield
Exc Spiked Shield
Stage 3
Armor Sets
Exc Dragon Helm
Exc Dragon Armor
Exc Dragon Pants
Exc Dragon Boots
Exc Dragon Gloves
Exc Ancient Helm
Exc Ancient Armor
Exc Ancient Pants
Exc Ancient Boots
Exc Ancient Gloves
Exc Legendary Helm
Exc Legendary Armor
Exc Legendary Pants
Exc Legendary Boots
Exc Legendary Gloves
Exc Guardian Helm
Exc Guardian Armor
Exc Guardian Pants
Exc Guardian Boots
Exc Guardian Gloves
Exc Gru Hill Helm
Exc Gru Hill Armor
Exc Gru Hill Pants
Exc Gru Hill Boots
Exc Gru Hill Gloves
Exc Sacred Fire Helm
Exc Sacred Fire Armor
Exc Sacred Fire Pants
Exc Sacred Fire Boots
Weapons
Exc Nikea Axe
Exc Larkan Axe
Exc Great Hammer
Exc Tiger Bow
Exc Serpent Crossbow
Exc Silver Bow
Exc Legendary Sword
Exc Double Blade
Exc Sacred Glove
Exc Berdysh
Exc Light Spear
Exc Serpent Spear
Exc Conmocion Lance
Exc Bill of Balrog
Exc Master Scepter
Staffs, Sticks, Books
Exc Legendary Staff
Exc Ancient Stick
Exc Book of Samut
Shields
Exc Dragon Slayer Shield
Exc Alacran Shield
Exc Serpent Shield
Exc Legendary Shield
Exc Bronze Shield
Exc Dragon Shield
Stage 4
Armor Sets
Exc Ashcrow Helm
Exc Ashcrow Armor
Exc Ashcrow Pants
Exc Ashcrow Boots
Exc Ashcrow Gloves
Exc Demonic Helm
Exc Demonic Armor
Exc Demonic Pants
Exc Demonic Boots
Exc Demonic Gloves
Exc Dark Soul Helm
Exc Dark Soul Armor
Exc Dark Soul Pants
Exc Dark Soul Boots
Exc Dark Soul Gloves
Exc Eclipse Helm
Exc Eclipse Armor
Exc Eclipse Pants
Exc Eclipse Boots
Exc Eclipse Gloves
Exc Iris Helm
Exc Iris Armor
Exc Iris Pants
Exc Iris Boots
Exc Iris Gloves
Exc Princie Helm
Exc Princie Armor
Exc Princie Pants
Exc Princie Boots
Exc Princie Gloves
Exc Atlans Armor
Exc Atlans Pants
Exc Atlans Boots
Exc Atlans Gloves
Exc Storm Zahard Helm
Exc Storm Zahard Armor
Exc Storm Zahard Pants
Exc Storm Zahard Boots
Weapons
Exc Crescent Axe
Exc Crystal Morning Star
Exc Giant Sword
Exc Heliacal Sword
Exc Lightning Sword
Exc Great Scythe
Exc Bill of Balrog
Exc Alacran Lance
Exc Bluewing Crossbow
Exc Aquagold Crossbow
Exc Holy Storm Claw
Exc Great Scepter
Staffs, Sticks, Books
Exc Staff of Resurrection
Exc Demonic Stick
Exc Book of Neil
---
[Advertisement]:

---