---
Arrow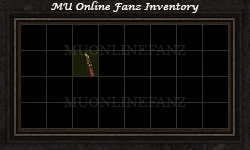 Used as ammunition for a [Bow].
Can be stacked up to (x255).
---
Search for this item in Monster Drop Tables > >
Related Items

Notes & Links
Sold via [NPC]:
Can be replaced by a [Quiver] item, which never runs out of ammunition.
---
---
*WEBZEN
IP, game content, and materials are trademarks and copyrights of Webzen Inc., and its Licensors, and is used with permission. © Webzen Inc. All rights reserved. The MU logo and the Webzen logo are trademarks of Webzen Inc.
Build 0.0.0.001