Apostle Devin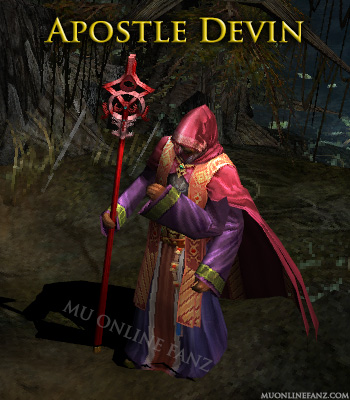 Apostle Devin is searching for a mighty warrior to accept a very difficult quest. Ultimately, he plans to infiltrate Balgass' Barracks and kill the evil war lord, Dark Elf, that lurks within! It will not be an easy task. Agree to help him and he will bless you with special abilities.
3rd Class Upgrade
Offers the 3rd Class Upgrade quest at Level 380.
Requires completion of the Hero Status quest.
Dark Knight characters require completion of the Dark Stone quest.
Requires character Level 400 to complete the quest.
Items required: at least x21,000,000 Zen
Difficulty: Hard
How do I get to Crywolf?
Requires character level 160
Game Lore...
During the 3rd Class Upgrade quest, this NPC has the following dialogue...
Evidence of Strength
- Task 1
"Lugard has requested a favor of you."
-- "What is it?"
"He wants you to seek heroes to oppose Balgass' new threat to MU."
-- "I'm listening."
"Balgass' army is approaching through the Crywolf Fortress, but we don't know the full extent of their plans yet."
-- "Tell me more."
"I'm not sure what Lugard is thinking, entrusting us with something this important. I really don't think we are strong enough."
-- "Please go on."
"I believe you've been sent to us for a purpose. Are you interested in working with us?"
-- "I will work with you."
"Before you begin, I need to check that you're powerful enough for the mission."
NPC Apostle Devin hands you a note with 3 items listed on it.
After bringing him the items on the list:
"Congratulations, you've completed the mission. Here's a small token for your hard work."
-- You keep listening, as he gifts a reward.
"Balgass is a great threat, as he is, since he's in cooperation with Eresia, the Queen of Sorcery, and has brought such danger into this world."
-- You continue listening.
"We predict that Balgass is attempting a new threat against the Continent of MU with his army of evil sorcery."
Infiltrate The Barracks of Balgass
- Task 2
"Welcome, you are truly ready to help us now."
-- "What do you need help with?"
"Well, according to our information, Balgass has formed a location called the Barracks. The 12 apostles of Lugard believe this is a new threat from Balgass."
-- You continue listening.
"Lacking the exact information about the Barracks drives one to want to enter the Barrack zone to destroy any further development of Balgass' army."
-- You continue listening.
"Fortunately, Lugard's guardianship could help find the way to enter Balgass Barrack. Enter the zone, destroy the soldiers, and gain accurate information. Will you bring back the proper data accordingly?"
-- You accept the request, and he hands you a note.
"Go to the northern graveyard of Crywolf and find the soldier that escaped from the Balgass' Barrack. Lugard's blessing has allowed him to have the intelligence to get you inside of the Barracks. He calls himself Werewolf Guardsman."
After you infiltrated Balgrass' Barracks and defeat the monsters:
"You've safely completed the mission. I appreciate your hard work and the strong will."
-- You thank him, as he gifts a reward.
"You have been great help in bringing peace to the continent of MU and Crywolf by getting all the information on the Barracks and destroying all those monsters."
---
Into The Realm of Darkness
- Task 3
"Your initiative courage has given hope to us all."
-- You thank him.
"Balgass has gone into hiding while he recovers and rebuilds his army."
-- "Please go on."
"In order to carry out Lugard's mission, Balgass' exact location must be found and the army in training destroyed."
-- "Tell me more."
"The final mission to is going to be a difficult test. Are you still interested?"
-- "I am."
"Enter at the northern edge of the Barracks. Secure the area beforehand so our forces can advance."
After you've defeated the Dark Elf:
"Congratulations, you've passed Lugard's final test. And now his blessing will be with you whereever you go."
-- You keep listening, as he gifts a reward, and blesses you with additional knowledge.
"Your hard work to keep peace in the continent of MU and Crywolf from Balgass' has paid off. I cannot thank you enough."
b2023.09.11.001

---
Owned by Izak Thompson
All Rights Reserved || Copyright © 2012 ~ 2023
*WEBZEN IP, game content, and materials are trademarks and copyrights of Webzen Inc., and its Licensors, and is used with permission. © Webzen Inc. All rights reserved. The MU logo and the Webzen logo are trademarks of Webzen Inc. Voluntary legal agreement established in 2021.