Sebina The Priest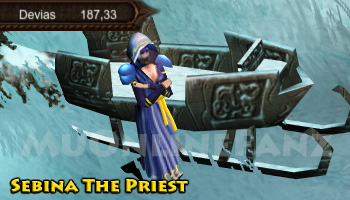 Sebina The Priest is a great priestess of the Church of Devias. She has a couple Quests to offer Tier 1 Character Class adventurers. Speak with her, after you have reached Character Level Level 150, to start the Quest!
Quest: Scroll of the Emperor
Scroll of the Emperor quest is offered at Level 150 to Tier 1 classes.
Items required: x1,000,000 Zen
Difficulty: Easy
Quest: Treasures of Mu
Notes & Tips
Completing each quest grants an additional +10 Stat Points.
Characters evolve into the next character class after completing the Treasures of Mu quest.
Completing the Treasures of Mu quest will unlock the Hero Status quest.
b2022.12.18.002

---
Owned by Izak Thompson
All Rights Reserved || Copyright © 2012 ~ 2023
*WEBZEN IP, game content, and materials are trademarks and copyrights of Webzen Inc., and its Licensors, and is used with permission. © Webzen Inc. All rights reserved. The MU logo and the Webzen logo are trademarks of Webzen Inc.