---
Charon
Related Links
:
Devil Square
---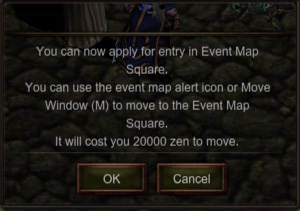 If you speak to Charon in Noria, he will teleport you to Event Square, where Charon is also located. Speak to Charon in Event Square to join the
Devil Square
mini-game.
This NPC can be found in Noria (172, 105), and Event Square (223, 29).
To participate in the Devil Square mini-game, you'll need to craft a Devil Square Invitation.
The core ingredients to create all mini-game tickets can be bought from Lumen the Barmaid. She is located in multiple places in Event Square.
Use the Chaos Goblin Machine to create any mini-game ticket.
Crafting mini-game tickets in Event Square has a +5% success rate.
There are multiple stage difficulties that divide players by levels:

Stage One: Level 50~179
Stage Two: Level 180~269
Stage Three: Level 270~349
Stage Four: Level 350~399
Stage Five: Level 400~500
Stage Six: Level 501~650
Stage Seven: Level 651+
[Advertisement]:

• Total visits:
• 11805135
• All Content Copyright
• © 2012 - 2019
• Published by
IZAKTLY STUDIO


WEBZEN
IP, game content, and materials are trademarks and copyrights of Webzen Inc., and its Licensors, and is used with permission. © All rights reserved.