---
Sir Lesnar
Related Links
:
Arka War
-
Protector of Acheron
---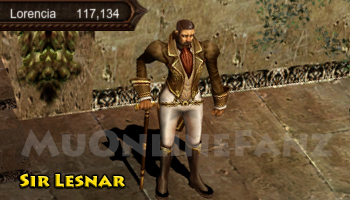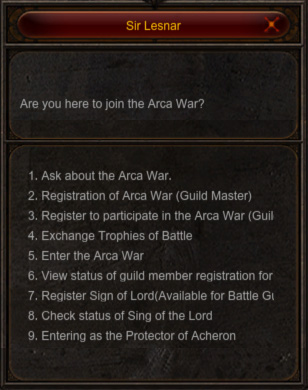 Sir Lesnar is the contact point for the
Arka War
mini-game and the
Protector of Acheron
mini-game. Speak with him to enter or register for the mini-games.
This NPC can be found in Lorencia (114, 131), Noria (183, 126), and Devias (240, 53).
Option (1): He will tell you about Arca War.
Option (2): Register a guild for Arca War (only guild master can register)
Option (3): Register to participate in Arca War (must be a member of a registered guild)
Option (4): Exchange any Trophies of War you've received.
Option (5): Select this option to warp to the Arca War arena.
Option (6): Check your registration status
Option (7): Use to register Sign of Lord for your guild.

Rank required: Battle Master (or greater)

Option (8): Check the status of all guild's Sign of Lord registration.
Option (9): Select this option to enter the Protector of Acheron mini-game.
[Advertisement]:

• Total visits:
• 11633041
• All Content Copyright
• © 2012 - 2019
• Published by
IZAKTLY STUDIO


WEBZEN
IP, game content, and materials are trademarks and copyrights of Webzen Inc., and its Licensors, and is used with permission. © All rights reserved.