---
Werewolf Guardsman
Related Links
: [Quest]
[Master Quest]
-
[Crywolf]
---
[Werewolf Guardsman] offers passage to the
[Balgass' Barracks]
[Map] for a [Zen] fee. His will charage (x3,000,000) [Zen] each time you enter the [Map]. In order to enter the [Map], the character must be at least [Character Level] [Level 400] and have at least started the
[Master Quest]
[Quest].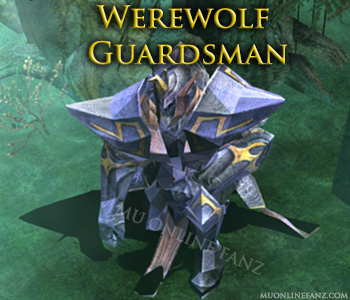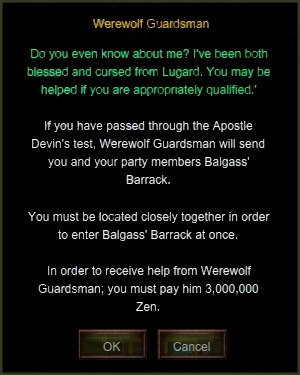 Story
NPC [Apostle Devin] continues:

"Fortunately, Lugard's guardianship could help find the way to enter Balgass Barrack. Enter the zone, destroy the soldiers, and gain accurate information."

NPC [Apostle Devin] replies:

"Go to the northern graveyard of Crywolf and find the soldier that escaped from the Balgass' Barrack. Lugard's blessing has allowed him to have the intelligence to get you inside of the Barracks. He calls himself Werewolf Guardsman."
• Total visits:
• 13072337
• All Content Copyright
• © 2012 - 2019
• Published by
IZAKTLY STUDIO


WEBZEN
IP, game content, and materials are trademarks and copyrights of Webzen Inc., and its Licensors, and is used with permission. © All rights reserved.