Werewolf Guardsman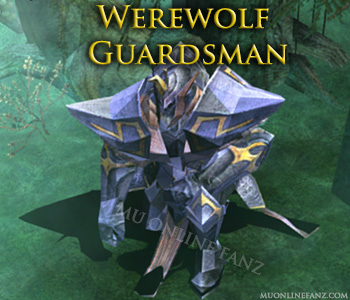 The Werewold Guardsman blocks the entrance to the Balgass Barracks map. He'll only allow players into Balgass Barracks during and after the 3rd Class Upgrade quest.
Balgass Barracks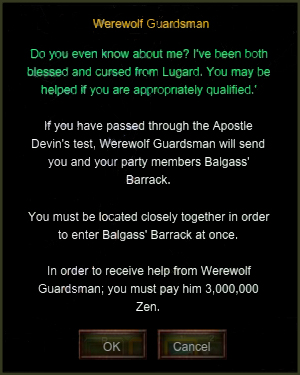 Game Lore...
During the 3rd Class Upgrade quest, Apostle Devin says:

"Fortunately, Lugard's guardianship could help find the way to enter Balgass Barrack. Enter the zone, destroy the soldiers, and gain accurate information."
"Go to the northern graveyard of Crywolf and find the soldier that escaped from the Balgass' Barrack. Lugard's blessing has allowed him to have the intelligence to get you inside of the Barracks. He calls himself Werewolf Guardsman."
b2022.12.18.002

---
Owned by Izak Thompson
All Rights Reserved || Copyright © 2012 ~ 2023
*WEBZEN IP, game content, and materials are trademarks and copyrights of Webzen Inc., and its Licensors, and is used with permission. © Webzen Inc. All rights reserved. The MU logo and the Webzen logo are trademarks of Webzen Inc.