Shadow Phantom Soldier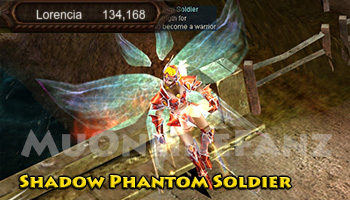 Overview:

Shadow Phantom Soldiers are located throughout the continent. These soldiers have been trying to hold off the evil monsters being summoned by Kundun. Shadow Phantom Soldiers, for the last 2 years, have successfully maintained a few cities. Unfortunately, their now diminished forces are not strong enough to do it alone. They are recruiting almost anyone left on the continent to help fight off Kundun's evil. By completing their Quests, the Shadow Phantom Soldiers will guide you to become a great and knowledgable warrior; they will also grant handsome rewards!
Quests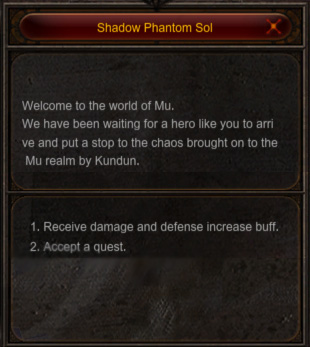 Starts to offer quests from level 1 for all classes.
Offers quests up to level 770.
Difficulty: moderate
Check the quest list here: Shadow Phantom Soldier
Notes & Tips
Will cast a buff on lower level characters via dialogue option #1.
The quests are reccommended as of them have valuable rewards such as equipment items or jewels.
Some quests offered by this NPC are repeatable.
All quests must be taken within their character level restrictions.
Sometimes this NPC's quest tasks vary by character class.
Buff Details
This NPC offers a free Buff which increases ATK DMG and DEF greatly.
The NPC Buff can be used at any time, and lasts for 60 minutes.
The NPC Buff cannot be used past Character Level Level 220.
In Gold Channel Servers the NPC Buff cannot be used past Character Level Level 400.
Buff effect:

ATK DMG +45
+1 ATK DMG every 3 Character Levels
DEF +50
+1 DEF every 5 Character Levels
Duration: 60 minutes
b2022.12.18.002

---
Owned by Izak Thompson
All Rights Reserved || Copyright © 2012 ~ 2023
*WEBZEN IP, game content, and materials are trademarks and copyrights of Webzen Inc., and its Licensors, and is used with permission. © Webzen Inc. All rights reserved. The MU logo and the Webzen logo are trademarks of Webzen Inc.